Trying to play like Ray Charles is no easy task, but one of his most popular songs is surprisingly not that difficult. Hit the Road Jack sticks to the same chord pattern throughout, which makes this a great song to learn whether you're a beginner or advanced player.
The left hand plays a single note which descends down the keys for a total of four notes, whilst the right hand plays a chord in between. It really is that simple, so here's the tutorial to show you how it's done…
The left hand bass notes – we only need four!
The left hand only uses four notes for the whole entire song and they are – A, G, F and E. You can use the notes directly below the middle C, however they sound much better if you go one more octave down like this…

Here is where the notes are played on the piano, and I have also written the fingers for the left hand underneath each note…

This is how they sound –
The right hand chords – we only need four!
The right hand uses only four chords – Am, Am/G, F7, and E7. The right hand chords fit in between each left hand bass note, meaning you play one of each. Here's the four chords along with the fingers for the right hand underneath…
This is how they sound –
You will notice that the first two chords are the same (A minor), but when we add the left hand 'G' to the second chord it now becomes Am/G. The second chord will become F7 when we add the 'F' from the bass, and the final chord will become E7 when we add the 'E' from the bass also.
Remember, you don't actually play the left and right hand at the same time – you play one after the other. Here's how it looks…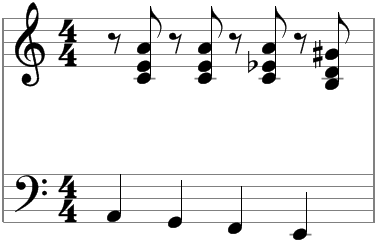 And here's how it sounds –
*If you'd like to see my full tutorial video on how to play 'Hit the Road Jack' by Ray Charles, please scroll to the bottom of the page for further details*
How to practice like a pro
Start with the left hand
The best way to practice Hit the Road Jack is to begin with the left hand. Start by playing the left hand notes really slowly, ensuring you keep a nice even rhythm of 4 beats per bar. You should be playing no faster than 60 beats per minute, or 1 note per second. If you are a complete beginner then I would advise going even slower to around 40-50 beats per minute.
This song is all about the rhythm, so practice as much as you can with your left hand and see if you can keep a nice even rhythm. Once you are happy that your rhythm is consistent, you can then begin to gradually increase the pace – keeping the rhythm consistent no matter how quickly you play it.
A great way to practice this is with a metronome, and all you need to do is Google the word 'metronome' and those clever people have created one for us without having to buy one! The original song is played between 90-100 beats per minute, but you can of course play it at whatever pace you like.
Now focus your practice on the right hand
The great news when it comes to playing the right hand is that the first two chords are the same, so once you know how to play this chord you are already halfway through!
Before you rush into playing the last two chords you need to focus once again on practicing an even rhythm at around 60 beats per minute. Start by playing the first chord over and over to build up your rhythm, and see how consistent you can keep it. You shouldn't be playing any other chords at this stage as your only goal is to practice the right hand rhythm, which would be hindered by trying to change chord.
The next stage is to then practice moving from one chord to the next, but again you need to hold back on trying all four chords at this stage. Begin with practicing moving from the Am chord to the F7. This will be relatively straight forward as all you need to do is move your second finger from the E to the E flat.
The next chord movement to practice is the F7 to the final chord – the E7. This is the hardest of the two chord movements as you have to play completely different notes. However, you only need to move all of the notes down one key to play from F7 to E7. Don't forget that you are using the fingers 1, 2, and 5 for the F7 chord, and 1, 2 and 4 for the E7 chord.
Now practice both hands
Once you are competent with the left and right hand separately, it's now time to try both hands. Go back again to around 60 beats per minute – and don't rush! One of the biggest mistakes you can make when attempting to play with both hands is to assume you can play at the same pace as you could when they were separate.
Unfortunately this won't be the case, and you will need to drop your tempo back down to around 60 beats per minute again. You also need to split your practice into two parts – beats 1 to 2 and beats 3 to 4.
Learn to play piano blues online with me
My online blues course teaches blues piano from scratch and builds your ability in a modular way. As you progress through the course, you'll learn left hands, right hands, bridges and endings which you'll use together to make your own blues piano compositions. I'll show you the blues scale early on, giving you everything you need to start improvising – and we'll progress to advanced licks and an impressive tutorial song to consolidate your new skills. Finally, we'll move onto some popular blues songs, including music by the great Jerry Lee Lewis and my own personal favourite, Ray Charles.
I charge just £14.99 for 6 full months access, with 58 videos and counting – that's less than the cost of a single piano lesson! – and I offer a 100% satisfaction money back guarantee.