One of the reasons why learning to play piano boogie woogie is so difficult is the lack of sheet music available. The shelves are still filled with classical, pop and rock, and when you do get your hands on a piano blues or boogie woogie book you'll often find that the left hands are not the same as what you hear. There always seems to be something missing right?
So what is the secret to playing a left hand like Jools Holland?
One bar of boogie woogie is all you need!
Let's get straight to the heart of that awesome left hand boogie you hear Jools Holland playing with the first bar in the key of C. I have also added the notes onto the sheet music –
Here is the bar again, but this time I have added the fingers you need to use –
For this left hand we are going to use the standard 12 bar boogie/blues progression, which means we will play this bar 4 times like this –
Here's how this sounds at the full speed –
And here's how it sounds at a much slower speed –
The strange thing about this left hand is that it sounds wrong when played really slowly, and doesn't work at all. More often than not you can play a left hand boogie at any pace and it will find its place within a song; however this Jools Holland left hand must be played fast in order for it to work.
Here's the complete 12 bars – Jools Holland left hand boogie woogie
If you'd like to play the complete 12 bars of this left hand you must remember that you need to change chords. A 12 bar blues progression in the key of C typically uses just three chords – C, F and G. This means that we use the 1st, 4th and 5th notes/chords from the C scale, which is often how the blues and boogie woogie is played.
For bars 1-4 we use the C chord, bars 5-6 use the F chord returning back to the C chord for bars 7-8. Finally, we use the G chord for bar 9, the F chord for bar 10, and to finish we use the C chord for bars 11-12.
For more information on how to play the 12 bar blues – click here.
Now that we understand how the 12 bar blues progression works, we can see how it looks on paper. I've put the chord categorisation over the top of each bar so you can see how this looks –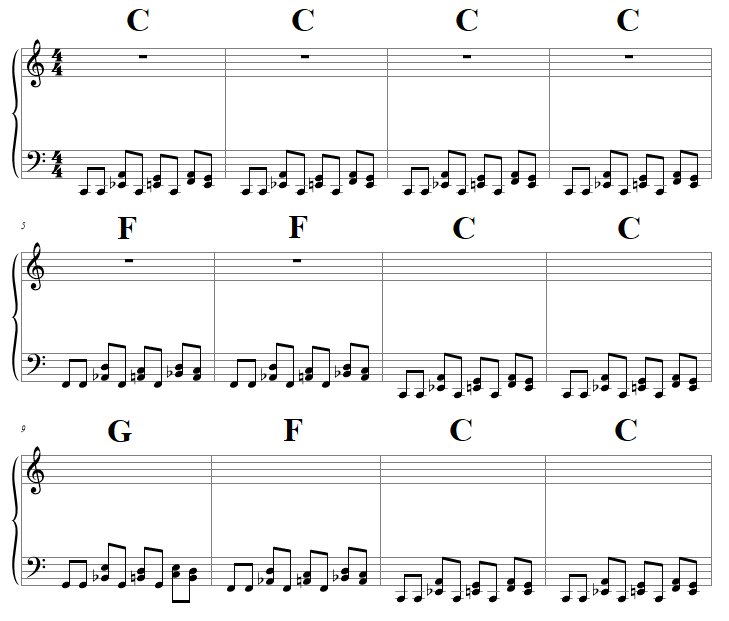 And here's how it sounds –
The left hand sounds fantastic, but even better when we add a proper Jools Holland right hand too! Listen to this –
How do I practice this amazing left hand boogie woogie piano? 
It may seem a little cliché to say 'practice', so let's skip the obvious part and get down to the nitty gritty of what's also really important. When one of my students tells me at the start of the lesson that they have struggled with a particular song or exercise, I usually smile with the knowledge that they will be fine come the end of the lesson.
What's the secret to learning amazing boogie woogie left hands? 
The secret is to play everything really slowly to begin with, and gradually build up the pace once you can play it – and it really is that simple! Unfortunately this is overlooked far too often, and our eagerness to practice and learn something quickly usually overshadows the right way to practice.
Learning how to play boogie woogie piano can be frustrating – but not impossible! 
Ask yourself this – would it be better to a. play something fast but wrong or b. play something slow and correct?
If you feel that a. is the correct answer then you are likely going to fall into the same trap that most people do, and your learning experience will be one of frustration as you struggle to ever learn and play something correctly.
If you feel that b. is the right answer, then you are already on your way to learning how to play like Jools Holland. This is definitely the better option of the two, and far more satisfying than playing something at the correct speed but making a mess of it!
It doesn't matter how slowly you have to play in order to play something correctly, because you can always speed things up later. Take things one step at a time and realise that learning to play boogie woogie piano requires a lot of patience and accuracy. The end result will be far more attainable if you are able to play something correctly most of the time, rather than making speed your priority.
Learn to play piano blues online with me
My online blues course teaches blues piano from scratch and builds your ability in a modular way. As you progress through the course, you'll learn left hands, right hands, bridges and endings which you'll use together to make your own blues piano compositions. I'll show you the blues scale early on, giving you everything you need to start improvising – and we'll progress to advanced licks and an impressive tutorial song to consolidate your new skills. Finally, we'll move onto some popular blues songs, including music by the great Jerry Lee Lewis and my own personal favourite, Ray Charles.
I charge just £19.99 for 6 full months access, with 58 videos and counting – that's less than the cost of a single piano lesson! – and I offer a 100% satisfaction money back guarantee.